"If thy discern about sin and its eternity, thy will recoil" Beatitude and Holy Archbishop Shenouda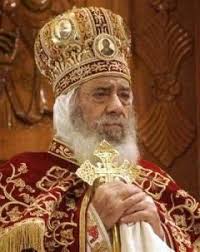 By Hiwot Salelew
Sin is the demise of conscience and spirit. As Apostle Paul said, "The wage of sin is death." (Rom. 6:13) Mankind sins whilst living on earth deliberately or inadvertently. He sins instead of abiding, triumphed by it depriving him from his virtue. Adam mortified from his purity and was forsaken from heaven; routed for his sin. "Overcome evil with good but not with evilness." (Rom.12:21) A child who abandoned his father and a sheep who flee from his shepherd is like money without its owner, and so sinners are lost. Those consumed with a secular life will be lost. "If anyone loves the world, the love of the Father is not in him." (1 John.2:16)
He who sins is not in unison with GOD which deprived him from his creator.  So, it is said that sinning is sundering from GOD. "What unison does the light have with darkness? What synchronization dose Christ have with Belhore? Or what consolidation do believers have with heresies?" (2 Cor.6፡14-15)
Sinning is to lose GOD; he who is sinful extricates his identity and his heart from GOD; so he loses his concord from GOD. "He who loves me will abide my word." (John 14:23).  But, he who doesn't worship GOD is sinful. A person with bad deed doesn't have Holy Spirit within him. Even he will oppose the work of it. "Do not thwart the Holy Spirit of God, by whom you have been imprinted for the day of redemption." (Eph. 4:30). If Holy Spirit doesn't act upon its miracle in the heart of human, he shan't repent. Holy Spirit braces humans to contrite their sins and remorse.  Sinful human being doesn't know the meaning of life. When he is informed about repentance, he says, 'leave me to be happy with my life'; since he thinks life is the happiness of secularity. A sinful man has no inner peace. "GOD says there is no peace for evils." (Isah.48:22) He also becomes craven and inhabits bad behavior. When Adam sinned, he possessed three things that weren't within him before; fear, shock and violence. Fear creates psychological syndrome; Sin exhausts conscience; but the Righteous live with peace, love and happiness. The fruit of Holy Spirit is love, happiness and peace, patience, forgiveness, kindness, faith, righteousness and continence. (Gal. 5:22-23)
While living on earth defying GOD's law results to bare severe punishments per to our curses. "Let he who fickle the words of this law, be cursed." (Duet. 28፡26) Mankind might encounter sudden death without repentance, shall be punished with disease, famine, pestilence, poverty and encroaching.
Humans get salvaged from eternal punishment; though shall bare earthly chastisement arbitrated by GOD, accord to the type of the sin we commit. Surely, there is no small or big sin. But, any time we violate the tenth commandment, we get punished. It could be as a result of GOD's anger through which it conserved by the civil code or Holy Church. The punishment might be detaining from Holy Sacrament and entering Church for limited of time.
Being sinful hinders from becoming an epitome and exemplary by GOD. It takes away the freedom and the chastity of conscience. "As I am holy, and thy shall be holy too." (Levit.11:44) he who doesn't restrain from sinning and die without repentance, is sentenced to eternal punishment. We ought to discern as GOD is forgiving and merciful, his judgment is also true and absolute, without forgiving, encroaching and condemning sin. It is essential to think and understand about his judgment, punishment and to repent. It is not apt to forget about his fierceness for his forgiveness, or about his judgment assuring his mercifulness.  "Now see GOD's forgiveness and fierceness; his fierceness is on those who fall. But if you live with diligence by his mercy, GOD's forgiveness will be upon you. Or else you shall be executed." (Rom. 1:22)
GOD is a true judge; his judgment is also absolute. After repentance and standing before him, we shall see his forgiveness. For those who live with carelessness, and do not repent we stand before him, we will see GOD for his fierceness and judgment.
Judgment day is very terrifying and fearsome. "He will come to desolate earth and dismiss sinners out of it with fierce, turmoil and devastation on his day." (Isa. 13:9). On that day, only GOD will rise up high; witches will all be destroyed.
When GOD comes to destroy earth, for his fierce on people and his glory, they will enter caves and into scattered earth. (Isa.2:17-20) As the fifth patriarch of Egypt Orthodox Tewahedo Church, Beatitude and Holy Archbishop Shenouda said, "If thy discern about sin and its eternity, thy will recoil" The righteousness will enter GOD's kingdom while sinners enter hell where there is everlasting fire. "Those will endure eternal punishment, but the righteous will enter in eternal life." (Mat.25: 46)
On that judgment day, many criers, shouting and clenching of teeth will surface; tough it is all useless. The everlasting darkness and fire is very frightening and terrifying. To understand its intricacy, we ought to recognize the life righteousness.
Source: Amharic text at www.mahiberekidusan.com/amharic website/