"Glory to God in the Highest Peace on earth, good will to men" (Luke 2:14)
January 6, 2022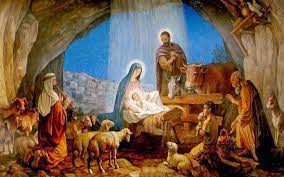 The salvation of all human kinds and foundation of peace and harmony, Our Lord and Savior Jesus Christ was born on January 7 from the Holy Virgin Mary, thus entering into the world as a man and revealing Himself to mankind.
Primitively, Saint Joseph and Saint Mary were forced to travel due to a Roman census; the odd location of the birth was the result of the refusal of a nearby inn to accommodate the expecting couple (Luke 2:1-20). It is known historically that dwellings were built directly over such caves housing livestock–in order to make use of the heat.
Lord Jesus was born in the city of Bethlehem in a cave, surrounded by farm animals and shepherds. The angel said to them, "Fear not: for, behold, I bring you good tidings of great joy, which shall be to all people. For to you is born this day in the city of David a Savior, which is Christ the Lord. And this shall be a sign unto you; you shall find the babe wrapped in swaddling clothes, lying in a manger. And suddenly there was with the Angel a multitude of the heavenly host praising God, and saying, Glory to God in the highest, and on earth peace, good will toward men. And it came to pass, as the angels were gone away from them into heaven, the shepherds said one to another, Let us now go even unto Bethlehem, and see this thing which is come to pass, which the Lord hath made known to us. And they came with haste, and found Mary, and Joseph, and the babe lying in a manger." (Luke 2:10-16)
Three magi came from the East, whilst Lord Jesus was surrounded Angels whom were praising and singing. They brought bearing gifts of gold, frankincense, and myrrh. These gifts are interpreted to signify Christ's royalty, divinity, and suffering. (Matthew 2:11)
Onwards, human beings celebrate the holiday commemorating the day of Lord Jesus Birth.
Brethren, we shall all be grateful and praise the holiday for it is the remark of humankind's salvation and the entry of kingdom of Heaven.
Happy Holiday!