The Birth of Our Lord Jesus Christ: Message by Patriarch Abune Mathias
January 5, 2017
By Kassa Nigus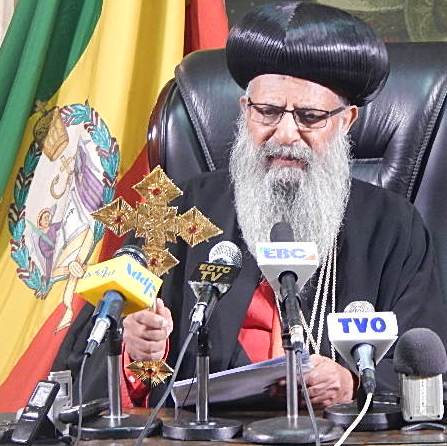 H.H. Patriarch Abune Mathias expressed his good wishes and congratulations to the laity on the occasion of the Birth of Our Lord Jesus Christ this Ethiopian Christmas celebrated on Tahisas 29, 2009 Eth. C./ January 7, 2017 G.C.

H.H. in his address dwelt on the benefits of God's blessings to man quoting from (Genesis 22:18); the promise given to Abraham, the father of many. God has endowed man with great things including to rule over every living thing that moves on earth. (Gen 1:28) Although this blessing of man was corrupted due to sin, God's compassion has saved man through the Birth of His Son Jesus Christ, as foretold by the prophets and saints of God.
H.H. said that the central message that was sent from above to earth during the Birth of Our Lord Jesus Christ was 'peace and blessings'. Quoting from St. Yared, who composed hymns as revealed to him by God, said of God's blessing, "during the Birth of Jesus Christ, the mountains become the bread of life; wild trees bear the fruit of blessings and the water of the sea becomes milk and honey". From this we can understand that as a result of the Birth of Our Lord both living and non-living things spent all the day in peace and cheerfulness. Angels and humans sang together in equality about peace.
H.H. added that we Christians should preserve the religious and ethical aspect of this feast by sharing what we have with others. The Holyday is also a day of reconciliation, equality and solidarity since after a long period of separation and isolation, God has become man and dwells within us; providing witness to the greatest reconciliation between people and God.
Finally, since Ethiopia is one of the ancient countries in the world where the Birth of Christ was preached, we would like to pass the message that it is God's will that everyone shall live in love, peace, and reconciliation and also protect one's country and work hard for its development.
http://eotcmk.org/e/wp-content/uploads/mk-logo-header-en.png
0
0
tc
http://eotcmk.org/e/wp-content/uploads/mk-logo-header-en.png
tc
2017-01-05 05:11:34
2017-01-05 05:11:34
The Birth of Our Lord Jesus Christ: Message by Patriarch Abune Mathias