January 13, 2017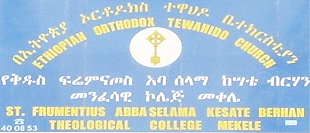 Saint Frieminatos Abba Selama Kesate Berhan Theological College of the Ethiopian Orthodox Tewahedo Church based in Mekele town, 761 km north of Addis Ababa, dismissed nine students on January 6, 2017 for displaying heretic tendencies.
According to information obtained from Mekele Branch of Mahibere Kidusan, the students whose college education has been terminated have been taking heretical trainings from Ato Yared Tsegay who was also dismissed for similar dissent. Following his dismissal, Ato Yared formed a denomination of his own, known as "Ye 'ewnet qal teketayoch" (literally meaning 'Followers of the true word') and has been unlawfully spreading heretical teachings in and around Mekele town.
The nine dismissed students were caught by members of Saint Frieminatos Abba Selama Kesate Berhan Theological College including the dean, Sunday School students of Debre Selam St Michael Church and law enforcement officials, while they were preparing to "be baptized by the spirit", as they claimed, at the conclusion of their training.
The dismissed students are Amanuel Demsie, Tamirat Altaye, Betemariam Wedaje, Tesfa Gebremichael, Weldberhan Kahisay, Henok Asmare, Wendye Abebe, Melese Lema and Ephrem Matebe. According to the statement of the College, the measure was taken following a series of investigations into the allegations, which were later confirmed.
The Guardian of the College, His Grace Abune Yohannes, explained the likely cause of such heretic deeds saying, "This problem happened due to flawed admission process and lack of follow-up on candidates on the part of the dioceses as well as the sophisticated, underground work of heretic groups in Mekele which operate as a network."
He added that though there is a procedure set by the Holy Synod for admission of candidates seeking to join Theological Colleges, laxity in the application of the procedure has contributed to the occurrence of such heretic tendencies among students.
His Grace also urged Sunday School students and members of Mahibere Kidusan saying, "As you have the potential to keep heretics away from the Church through a system fitting to the present day, you should pray and work hard to defend our colleges and the Church from being tainted by the heresies of those wolves."
Going forward, the College will conduct strict investigation into similar cases, His Grace added, and on behalf of the College, he extended his gratitude to Sunday School students of Debre Selam St Michael Church, devout disciples and others who contributed to the exposure of the heretic movement.
Source: Sem'atsidk Newspaper published from January 25 – February 6, 2017, pp.1.
Editing by Tsegaye Girma
http://eotcmk.org/e/wp-content/uploads/mk-logo-header-en.png
0
0
tc
http://eotcmk.org/e/wp-content/uploads/mk-logo-header-en.png
tc
2017-02-13 04:20:59
2017-02-13 04:20:59
Nine Theological College Students Dismissed for Heretic Tendencies