Blest be the Birth Day of Abune Zera Biruk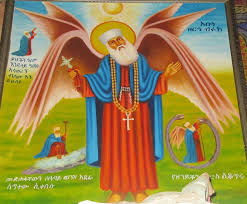 Long after the prophecy was alleged, "A daughter will be born, who will save the world through her prayer and who will redeem souls through her intercession," a girl was born named Mary Mogesa whose parents married her to a man named Demme Kristos.
Later on she conceived and bare a son with power and grace. During her pregnancy, she neither craved a dress nor belt around her waist. Like Saint John the son of Zechariah, he enacts miracles and wonders in his mother's womb and Mary fasted and prayed until the day of her son's birth.
On September 2nd, she gave birth to this righteous man, who was despised by the pupil and loved by God; the day of his birth, was a fiesta amongst his mother, his father and his countrymen. They celebrated for seven consecutive days. On the day of the birth of the righteous Christian, God gave him the second name, Zera Biruk and the third name is Tsega Eyesus (found in many prayer books).
After his birth, his father and mother raised him until he was seven years old. But then, he lost his sight after pleasing God, to visor his from this malice of this world. His parents mourned about the loss of their son's sight and so Tsega Eyesus lived in their home for a year. Then, He began to fast on Wednesdays and Fridays beginning his seventh age; when his mother and father saw him fasting at the age of seven, their grief turned to joy.
After this, they discussed among themselves to teach him in home school so that he would learn the whole Holy Scriptures, knowing that he would hide his disability if he learned the Holy books and that he would teach him all the books of the Church.
As he learned, God brought great deal of affliction and affliction upon him. His parents worried what would life be like in this world for him. They never realized that God did not allow him to learn all the books except him, but this little boy lived in obedience with his father and mother. While he fasted two days a month. As the Apostles commanded in the Holy Synod, at 10 years old, he fasted for two days within month. At twelve years old, he fasted forty days and forty nights though his parents were unaware of that their infant who was endowed with the grace of the Holy Spirit.
Then, God revealed the secret of book of the Old and New Testaments, The Scholars and the Monks and the Apocryphal Books, the creation of angels and of men (all justice, and the melody of Saint Jared); to the righteous. God willed these wonderful miracles Blessed Father, Abune Zera Biruk at an early age.
May our creator work miracles for us make us rejoice in our tribulation; He will reveal to us all the Scriptures, just as he revealed them to him. May He have mercy on our souls through the righteous prayers of His sons and daughters, in His remembrance, call on His name, and supplicate Him in prayer; Amen!!!
Source: Hagiography of Abune Zera Biruk