March 1, 2017
By Kassa Nigus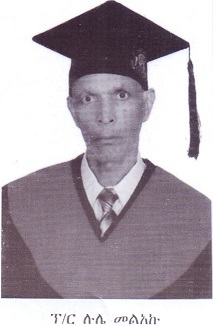 Professor Lule Melaku, the prominent theologian and researcher, was laid to rest at Menbere Tsebaot Holy Trinity Cathedral Church in Addis Ababa Ethiopia, on February 24, 2017.
He has been served more than half a century at the Ethiopian Orthodox Tewahedo Church Theology Colleges in teaching and research.
H.H Patriarch Abune Mathias, archbishops, disciples of the Holy Trinity Theology College and St Paul Sewasewe Berhan Theology College and relatives of the scholar as well as friends of the late Professor attended the funeral.
Professor Lule Melaku was exemplary man of God, a mentor and shiny father who declared his superb in what he has done according to his biography red in the funeral. Poem (Ge'ez Qenie) that testified his deeds was composed and offered by church scholars as part of the funeral service.
His Grace Archbishop Abune Timothewos, the supreme guardian of the Holy Trinity Theological College, witnessed his celebrity saying, professor Lule who sow his real knowledge on the mind of mankind has produced several professionals who engaged both in spiritual and secular profession as a farmer feeding the world by harvesting different grains.
Professor Lule was the perfect hermit that God testified his righteousness; we have seen the 'perfect hermit and celibacy' not only in monastery, forest, desert… but being dwelled in a town through the disciplined life of the professor. Death is our path, he has lived and worked faithfully until he died according to God's will, may God rest his soul, His grace added.
May God repose his soul in the bosom of our holy fathers, Abraham, Isaac and Jacob!!
http://eotcmk.org/e/wp-content/uploads/mk-logo-header-en.png
0
0
tc
http://eotcmk.org/e/wp-content/uploads/mk-logo-header-en.png
tc
2017-03-01 05:41:13
2017-03-01 05:41:13
The Renowned Theologian Prof. Lule Melaku Passes away at 84