The Good Shepherd LORD Jesus Christ and His Sheep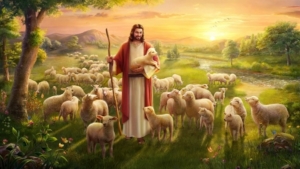 Midst Holy Gospel, LORD Jesus Christ preached about sheep and the shepherd.  He said, "Verily, verily, I say unto you, he who does not enter the sheepfold by the door, but climbs in transient way, the same is a thief and a robber. But he who enters by the door is the shepherd of the sheep. To him the doorkeeper opens and the sheep hear his voice; and he calls his own sheep by name and leads them out.  When he brings out his own sheep, he goes before them and the sheep follow him, for they know his voice. Yet they will by no means follow a stranger, but will flee from him, for they do not know the voice of stranger." (John 10:1-6)
LORD Jesus used this illustration, but the Pharisees did not understand of which He spoke off; so again Jesus said, "Verily Verily I say to you, I am the gate for the sheep. All who came before Me are thieves and bandits; but the sheep did not hear them. I am the gate; whoever enters by Me will be saved; He shall go in and find pasture. The thief comes only to steal, kill and destroy. I came that they may have life and they might have it more abundantly. I am the good shepherd. The good shepherd lays down his life for the sheep." (John 10:7-11)
Saint John Chrysostom elucidated how the gate is the word of God asserting, if someone is try to lead people in the path of spirituality without using the Scriptures and a correct interpretation of them is an imposter. But how can the sheep distinguish the imposter from the true Shepherd? LORD Jesus told them the reason in which they recognize his voice. How can we recognize his voice? We will be able to do so if we are familiar with it. If we are not immersed in the sacred scriptures, Holy Gospels, epistles as revealed and share with us in the life of the Church, we will not be familiar with the voice of Christ. Think about how much we expose ourselves to other voices: hours and hours with celebrities, politicians, pundits, guru, even friends and family members. Nevertheless, we barely even spend a few minutes at the Door of the Good Shepherd each day in personal meditation or an hour each week in the liturgy. How can we recognize His voice?
The Gospel of Apostle John  states,  "But a hireling, he who is not the shepherd, one who does not own the sheep, sees the wolf coming, leaves the sheep and flees; then the wolf catches the sheep and scatters them. The hireling flees because he is a hireling and does not care about the sheep. I am the good shepherd; I know My sheep and I am known by My own. As the Father knows Me, even so I know the Father and I lay down My life for the sheep. And other sheep I have which are not of this fold; them also I must bring, they will hear My voice; there will be one flock and one shepherd." (John 10:12-16)
This is an interpretation of which LORD Jesus knows His flock; He calls them by name. Whether we realize it or not, GOD knows each of us. He knows both the good and bad about us. Yet, no matter how far we have fallen into sin, or have apart from God, Jesus the Good Shepherd loves us. "What man of you, having a hundred sheep, if he loses one of them, doth not leave the ninety and nine in the wilderness and go after that which is lost, until he find it? And when he hath found it, he lay it on his shoulders, rejoicing." (Lucas 15:4-5)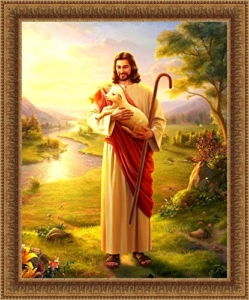 LORD Jesus Christ lay down His life in every Eucharistic liturgy. He gave us His life so that we may have eternal life with God in heaven. This passage is selected for hierarchs and bishops who were saints because they are like all bishops and priests serving in the iconic role of shepherd for the flock of the Church. The Apostle Peter explains, "The elders who are among you I exhort, whom I am also an elder and a witness of the sufferings of Christ, also a partaker of the glory that shall be revealed: Feed the flock of God which is among you, taking the oversight thereof, not by constraint but willingly; not for filthy lucre, but of a ready mind; neither  as being lords over those entrusted to you, but being examples to the flock; and when the Chief Shepherd appears, ye shall receive a crown of glory that does not fade away. Likewise ye younger people, submit yourselves unto your elders. Yea, all of you be submissive to one another and be clothed with humility: for God resists the proud, but gives grace to the humble." (1 Peter 5:1-5)
Towards in receipt of the gift of life from the one Shepherd, we must be active members of His one flock. As Orthodox Christians, we believe our Church is that one flock. Saint  Ignatius of Antioch taught, "Be careful of observing a single Eucharist, for there is one Flesh of our LORD Jesus Christ and one cup of His Blood that makes us one, and one altar; just as there is one bishop. This is in line with God's will." In other words, a different flock with different beliefs is not part of God's will. One flock implies one single true belief and practice of God's preaching.
Friday's passage of John Chapter 10 is a summation and conclusion of the previous verses. "For this reason the Father loves Me, because I lay down my life in order to take it up again. No one takes it from Me, but I lay it down of My own accord. I have power to lay it down, and I have power to take it up again. I have received this command from my Father." Therefore, there was a division again among the Jews because of these sayings. And many of them said, "He has a demon and is crazy. Why do you listen to Him?" Others said, "These are not the words of one who oppressed by a demon. Can a demon open the eyes of the blind?"  Now it was the Feast of dedication in Jerusalem and it was winter. Jesus walked in the temple, in Solomon's porch. Then, the Jews surrounded Him and said to Him, "How long do You keep us in doubt? If You are the Christ, tell us plainly." Jesus answered, "I told you, and you do not believe. The works that I do in My Father's bear witness about Me; but you do not believe, because you are not among My sheep. My sheep hear My voice. I know them and they follow Me. I give them eternal life and they will never perish. No one will snatch them out of My hand."(John 10:17-28)
The door of true teaching from the one Good Shepherd requires a response on our part: to believe and follow. It requires our free will to participate in the will of God. It's not forced nor is it habitual. Thus, it implies that we can be like some of the Jews, whom Jesus taught but yet they did not believe. My brothers and sisters, do we hear the voice of the Good Shepherd? Do we recognize His voice? Do we trust Him and obediently follow Him?
The Gospel of John Chapter 9 is about Jesus healing the man born blind. After being healed, he was shed out by the unbelieving scribes and Pharisees for he would not condemn Christ for healing on the Sabbath.  LORD Jesus heard that they had driven him out and when He found him, He asked, "Do you believe in the Son of Man?" The man answered, "And who is He, sir? Tell me, so that I may believe in Him." Jesus said to him, "You have now seen Him, and he is the one speaking with you." The man said, "LORD, I believe." And he worshiped Him(John 10:35-38). May our Good LORD Jesus Christ be our Good Shepherd; Amen!
Source: Saint George Greek Orthodox Church and the sermon of Saint Ignatius of Antioch