STATEMENT BY BISHOP YOUSSEF ON THE BOMBING AT SAINT PETER COPTIC ORTHODOX CHURCH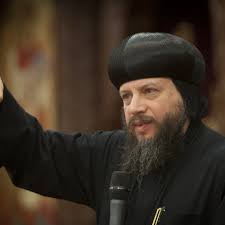 Statement on the bombing at Saint Peter Coptic Orthodox Church (known as "Botrosiya"), Abassiya, Egypt, December 11, 2016, Coinciding with the Blessed Month of Koiahk 2, 1733 [a.m.].
Today, heaven's gates opened wide to many victims of terrorism, angels placed the crowns of martyrdom upon their heads, and our Lord Jesus Christ welcomed them into the paradise of joy. Shortly after receiving the Holy Eucharist, a bomb exploded on the side of this ancient church, where women, infants, and young children await their turn to partake of the Holy Eucharist.
There is no God in any religion that can accept this savagery, for it is incomprehensible that heaven can be comprised of murderers. Where is the bravery in these atrocities? Where is the heroism in such violent acts? Bravery and heroism are marked by the courage of all Christians, regardless of their dire circumstances, whether poor, ill, or disadvantaged, but greet each day with faith and fill every church in this great land that has been blessed by the blood of the martyrs for more than 2000 years.
We are not praying for our martyrs, for they have won the kingdom of God. We are praying and fasting for those who commit these cowardice acts and hide behind the cloak of religion to destroy a nation trying to recover from years of the poison of extremism. We are praying and fasting, not for our martyrs, for they have obtained forgiveness through the body and blood of Christ, but for those who do not know the meaning of love and will not be forgiven until they learn the power of love.
We are praying and fasting, not for our martyrs; for they held their children in their arms so that they would grow in their footsteps and follow the rules of love and forgiveness, but for those who are steered by hate and teach their children to kill.We are praying and fasting for the healing of all Egyptians, Christians and Muslims, that we may live together in peace, safety, and civility for the good of all citizens.
We are praying and fasting, not for our martyrs, for they followed God's commandments, but for those who do not denounce these horrific crimes, that will worsen matters by not taking a stand.We are praying and fasting that the Lord will be swift in hearing the call of the martyrs' blood and bring these murderers to justice here on earth and in eternity. May the Lord comfort the families and loved ones of our beloved martyrs and may He root out all aggression from His beloved Egypt, and may He heal the pain of all Egyptians suffering from the consequences of terrorism.
"And when you hear that we look for a kingdom, you suppose, without making any inquiry that we speak of a human kingdom. Instead, we speak of that which is with God, as can be shown from the confession of their faith made by those who are charged with being Christians, even though they know that death is the punishment awarded to those who so confess.
For if we looked for a human kingdom, we would deny our Christ, so that we might not be killed. We would try to escape detection, so that we might obtain what we hope for. But since our thoughts are not fixed on the present, we are not concerned when men cut us off; since death is a debt which must at all events be paid" (Justin Martyr, c. AD 150, First Apology 11).
We ask the Lord to protect His church and the Christians all over the world, to grant His peace upon us, to support our beloved father and patriarch, His Holiness Pope Tawadros II, and to guide all the leaders and governors entrusted with the lives of all the people in the whole world.
Glory be to God, forever. Amen.
Bishop, Coptic Orthodox Diocese of the Southern United States
Source: Coptic Orthodox Diocese of the Southern United States (https://suscopts.org/).
http://eotcmk.org/e/wp-content/uploads/mk-logo-header-en.png
0
0
tc
http://eotcmk.org/e/wp-content/uploads/mk-logo-header-en.png
tc
2016-12-12 01:15:53
2016-12-12 01:15:53
STATEMENT BY BISHOP YOUSSEF ON THE BOMBING AT SAINT PETER COPTIC ORTHODOX CHURCH