Sewasiwe Birhan Saint Paul Theological College Graduates 236 Disciples
June 28, 2016
By Kassa Nigus & Tsegaye Girma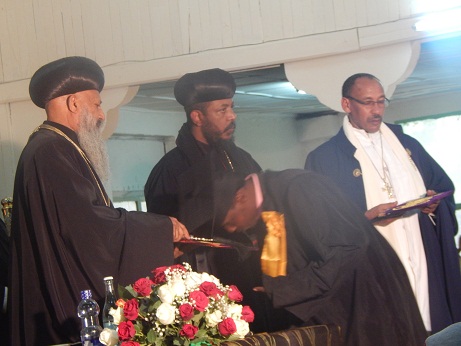 Sewasiwe Birhan
Saint Paul

Theological College under the Ethiopian Orthodox Church graduated 236 disciples at the Patriarchate on June 25, 2016 in the presence of His Holiness the Patriarch, archbishops, various department heads of the Church and monasteries, college teachers, invited guests and families of the graduates.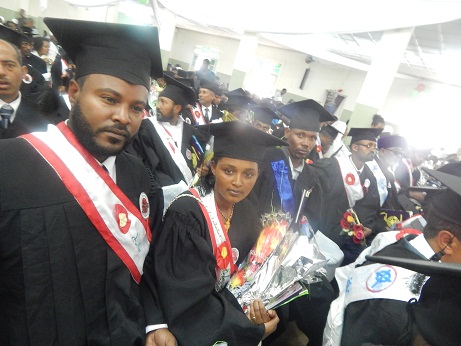 His Holiness the Patriarch awarded certificates to the disciples who perused their studies in Old and New Testament interpretations for five and three years. During his opening speech, Liqe Hiruyan Sertse Abebe, Dean of the College, remarked "The College has graduated a number of scholars since its establishment. Today's 236 graduates studied Old and New Testament commentary. One disabled and two females are among the graduates."
During the ceremony, the disciples presented Yaredic hymns and Ge'ez poetry (Qinie) praising archbishops in attendance and highlighting solutions needed for administrative problems in the college. Graduates with exceptional academic excellence received recognition certificates from His Holiness the Patriarch and His Grace Abune Deyoskoros, General Manager of the Patriarchate.
In a statement delivered through their representative, the graduates called for budget adjustment for church teachers. They also requested the college to include curriculums for Book of Scholars and Book of Monks in addition to Old and New Testament interpretations.
The graduates also pledged to defend the doctrine of the church from heresies and abide by the canons the Holy Synod issues periodically. They also vowed to scarify themselves for the sake of the church and evangelism, if need be, like the apostles and saints.
After giving his fatherly blessings, His Holiness Patriarch Abune Mathias stressed that evangelical service is the church's priority and that church fathers and all the Christendom should improve remuneration for disciples and teachers according to the current living conditions.
His Grace Abune Deyoskoros on his part said that the General Patriarchate is ready to address the problems of the college promptly and urged the college to forward its concerns to the Patriarchate and the Holy Synod through the proper hierarchy.
Finally, the graduation ceremony was closed by the blessing of His Holiness the Patriarch.
http://eotcmk.org/e/wp-content/uploads/mk-logo-header-en.png
0
0
tc
http://eotcmk.org/e/wp-content/uploads/mk-logo-header-en.png
tc
2016-06-27 22:32:04
2016-06-27 22:32:04
Sewasiwe Birhan Saint Paul Theological College Graduates 236 Disciples