Burial Slab of Jesus Uncovered For First Time in Centuries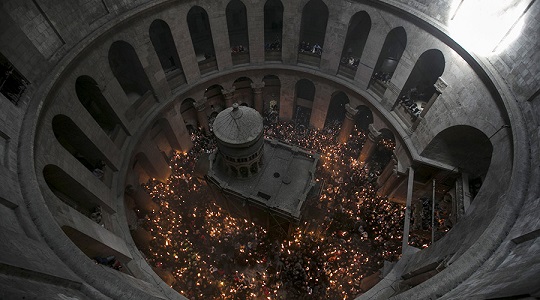 Jesus Christ's 'burial slab' uncovered during restoration
Exclusive: Christ's Burial Place Exposed for First Time in Centuries
Restorers working in the Church of the Holy Sepulchre in Israel uncover stone slab venerated as the resting place of Jesus Christ.
JERUSALEM, ISRAELF or the first time in centuries, scientists have exposed the original surface of what is traditionally considered the tomb of Jesus Christ. Located in the Church of the Holy Sepulchre in the Old City of Jerusalem, the tomb has been covered by marble cladding since at least 1555 A.D., and most likely centuries earlier.
"The marble covering of the tomb has been pulled back, and we were surprised by the amount of fill material beneath it," said Fredrik Hiebert, archaeologist-in-residence at the National Geographic Society, a partner in the restoration project. "It will be a long scientific analysis, but we will finally be able to see the original rock surface on which, according to tradition, the body of Christ was laid."
According to Christian tradition, the body of Jesus Christ was laid on a shelf or "burial bed" hewn from the side of a limestone cave following his crucifixion by the Romans in A.D. 30 or possibly 33. Christian belief says Christ was resurrected after death, and women who came to anoint his body three days after the burial reported that no remains were present.
This burial shelf is now enclosed by a small structure known as the Edicule (from the Latin aedicule, or "little house"), which was last reconstructed in 1808-1810 after being destroyed in a fire. The Edicule and the interior tomb are currently undergoing restoration by a team of scientists from the National Technical University of Athens, under the direction of Chief Scientific Supervisor Professor Antonia Moropoulou.
The exposure of the burial bed is giving researchers an unprecedented opportunity to study the original surface of what is considered the most sacred site in Christianity. An analysis of the original rock may enable them to better understand not only the original form of the tomb chamber, but also how it evolved as the focal point of veneration since it was first identified by Helena, mother of the Roman emperor Constantine, in A.D. 326.
Source: Orthodoxy Cognate Page: retrieved at "http://theorthodoxchurch.info/blog/news/jesus-burial-slab-uncovered-for-first-time-in-centuries/"on October 28, 2016.
http://eotcmk.org/e/wp-content/uploads/mk-logo-header-en.png
0
0
tc
http://eotcmk.org/e/wp-content/uploads/mk-logo-header-en.png
tc
2016-10-28 23:31:53
2016-10-28 23:31:53
Burial Slab of Jesus Uncovered For First Time in Centuries