Ardour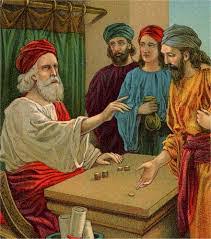 Every human's ardour being the spiritual talent leads to our destiny, the eternal life.  The innate talent is God's gift. As Saint Paul said, "But to each one is given the manifestation of the Spirit for the common good. For to one is given the word of wisdom through the Spirit, and to another the word of knowledge according to the same Spirit; to another faith by the same Spirit, and to another gifts of healing by the one Spirit, and to another the effecting of miracles, and to another prophecy, and to another the distinguishing of spirits, to another various kinds of tongues, and to another the interpretation of tongues. But one and the same Spirit works all these things, distributing to each one individually just as He wills." (1 Corinthians 12:7-11)
In the Apostasy era, Lord Jesus Christ told his disciples a story about a man who gave his servants some talents. A talent was a large amount of money. The man gave one servant five talents. He gave another servant two talents; He gave a third servant one talent. Then the man went on a journey. The servant with five talents worked hard. He earned five more talents. He now had ten talents. The servant with one talent buried it in the ground. He was afraid he would lose it. He did not work to earn any more talents. When the man came back, he asked the servants what they had done with his talents. The first servant brought him ten talents. The man was happy. He made the servant a leader over many things and told him to be joyful. The second servant brought the man four talents. This also made the man happy. He made the second servant a leader over many things and told him to be joyful. The third servant gave the man back the talent he had buried. The man was not happy. He said the servant was lazy. He should have worked hard to earn more talents. The man took the talent from the third servant and gave it to the first servant. Then he sent the lazy servant away. The man in the story is like Lord Jesus. We are like the servants and he will judge how we each use the gifts we have been given.
Natural talents are the result of our genetic inheritance and the training resulting from our familiar environment. They are possessed by both believers and non-believers, and they can be used to serve God or serve ourselves. However, Ardour or Spiritual gifts are given to us by the Spirit of God. They blossom as we mature in our faith and they are used to glorify God as we serve others and build the family of God.
Non-believers can be very talented in some of these areas without having been given a gift of the Spirit. But in addition to the gifts that sound like talents possessed by non-believers, there are others on the list that seem specific to the lives of believers. Believers have many natural talents, but in addition to these talents, they are also gifted by God.
We can all develop our natural talents with hard work and perseverance; we practice and train and along the way we can achieve the expected results. Spiritual gifts, on the other hand, are increased as we mature in our relationship with God:
"For through the grace given to me I say to every man among you not to think more highly of himself than he ought to think; but to think so as to have sound judgment, as God has allotted to each a measure of faith. For just as we have many members in one body and all the members do not have the same function, so we, who are many, are one body in Christ, and individually members one of another. And since we have gifts that differ according to the grace given to us, let each exercise them accordingly: if prophecy, according to the proportion of his faith; if service, in his serving; or he who teaches, in his teaching; or he who exhorts, in his exhortation; he who gives, with liberality; he who leads, with diligence; he who shows mercy, with cheerfulness." (Romans 12:3-8)
The Bible clearly tells us that spiritual gifts are given to us for a specific reason. While we may find ourselves using our natural talent to serve our own selfish interests and desires, spiritual gifts have been given to us by God "for the common good" and to the glory of God; they are given to us so we can give them back to God as we serve His purpose of building the family of believers. Spiritual gifts are given to us so all of us can perform "the work of service, to the building up of the body of Christ". That's why all of us are gifted in some way by God. We're not supposed to sit and watch the pastor do the work, we are supposed to get out and use the gifts God has given us.
In Ephesians is written as, "He who descended is Himself also He who ascended far above all the heavens, that He might fill all things.) And He gave some as Apostles, and some as Prophets, and some as Evangelists, and some as Preachers and Teachers, for the equipping of the Saints for the work of service, to the building up of the body of Christ" (Ephesians 4:10-12)
"As a result, we are no longer to be children, tossed here and there by waves, and carried about by every wind of doctrine, by the trickery of men, by craftiness in deceitful scheming; but speaking the truth in love, we are to grow up in all aspects into Him, who is the head, even Christ, from whom the whole body, being fitted and held together by that which every joint supplies, according to the proper working of each individual part, causes the growth of the body for the building up of itself in love." (Ephesians 4:14-16)
When we have been gifted by God to enrich our destiny, we must expect the unexpected. As we mature in our relationship with God, he will surprise us by gifting us beyond our natural talent. Otherwise, our ending shall be just as the one talented man, everlasting darkness.
May God help as all in acknowledging our ardour and avail eternal life, Amen!
Source: Bible Expositions