The Commemoration of the Death of St. Mary (Astereyo Mariam)
"… Behold, from henceforth all generations shall call me blessed. For He that is mighty hath done to me great things;" (Luke 1:48-49)
January 30, 2017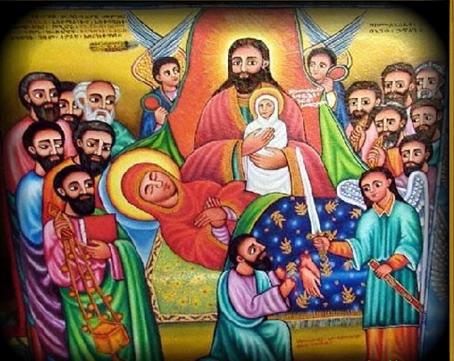 The Ethiopian Orthodox Tewahido church commemorates the death of St. Mary on Tir 21 (January 29). The day is known as 'Aster'eyo' to mean appearance/Epiphany. It is one of the most colorful festivals of St Mary
celebrated across Ethiopia. It coincides with the season the church devoted to celebrate the different manifestations of Christ's glory and Divinity, especially the Nativity, the Baptism as well as the miracle at Cana.
The term 'Aster'eyo' is more related to the commemoration of the death of St. Mary in view of the fact that God came with thousands of His angles to comfort her, as is recorded in the Synaxarium.
The years of St. Mary's life on earth were 64 years. She grew up in her parents' house and lived there for 3 years and 7 months. She was then given to the priests in the temple to grow there serving in God's house. She left the temple when she reached the age of 15. She spent 34 years and three months in Joseph's house until the Ascension of the Lord, and spent the rest of her life (i.e. 14 years) with St. John the Evangelist, according to what the Lord said when He was on the cross: "Behold, this is your son," and to St. John, "Behold, this is your mother."
Her intercession and blessings be with us. Amen.
Source: Synaxarium – The Book of the Saints of the Ethiopian Orthodox Tewahedo Church.
http://eotcmk.org/e/wp-content/uploads/mk-logo-header-en.png
0
0
tc
http://eotcmk.org/e/wp-content/uploads/mk-logo-header-en.png
tc
2017-01-29 23:13:27
2017-01-29 23:13:27
The Commemoration of the Death of St. Mary (Astereyo Mariam)